Jiangxi Resident Shares Information and Photos of Leping
Leping City is located in northeast of Jiangxi Province, and is charged by Jing De Zhen City - famous capital of china. Leping was a county a few years before but now it's a small city with a population of about 750,000. Total area is 1,974 square kilometers (771 square miles). Most places are hilly lands. It belongs to sub-tropical area with seasonal humid climate, hot in summer and cold in winter. The soil is rich and climate mild. Water supply is wonderful and agricultural products are abundant. Their products include vegetables and oranges. It is a relatively larger vegetable producer in Jiangxi Province. Their vegetable revenues last year was RMB 320 million. There are lots of coal mines in Leping. There are not many industries but the large industries include nylon and fabric production companies. Recently, Leping city government is seeking foreign investment and encouraging foreign investors to invest and help local economy development. The transportation and communication are convenient with the Anhui-Jiangxi railroad passing through the city, state road 206 going through the city from south to north, water way flowing directly to BoYang Lake (the biggest inland lake in China) and Yangtze River (the longest river in China). The Luo Jia Airport is only 25 miles (40 kilometers) away from the downtown of Leping City. Telephone and telecommunications are available. The people there are not rich. In 1999, the total capita for the city is 3,285 millions RenMingBi Yuan (410 millions of US dollars), with an increase of 10.8%. Average farmer has an annual income of $300, people in town and city has an average annual income of $474.
Leping City Social Welfare House mainly raised abandoned kids from country and town. In China there is a policy regarding birth control that one couple is allowed to have one child. However, people in China still have a popular concept that raising children is for labor and support for aging. Average Chinese family would like to have one boy at least. Because of heavy economic penalty, lots of baby girls were abandoned by their parents and therefore adopted by the Social Welfare House. Because of limited resources in the Social Welfare House and the young age of these children (many infants), these kids are sent to families with some basic raising capacities for temporary care, government provides supplemental living expenses and foods periodically for the kids. Currently the Social Welfare House has dozens of kids. The kids submitted to external/foreign adoption are strictly selected for their health and intelligence. The kids submitted for international adoption are all through Shipping Station under the administration of Chinese Government. Every province has its own transportation stations. Jiangxi Province has 28 shipping stations and Leping is one of them. The shipping station is responsible for selection of to-be-adopted infants and kids, information reporting and transfer.
Here are some pictures:
An overview of downtown Leping.

An old building.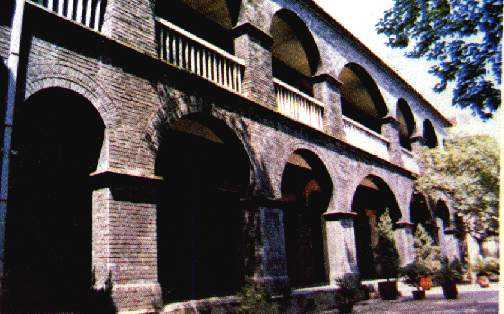 Vegetable Exchange Center.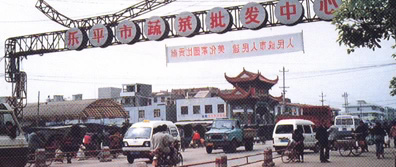 Gongfu Show

Sunset at Ziyang Bridge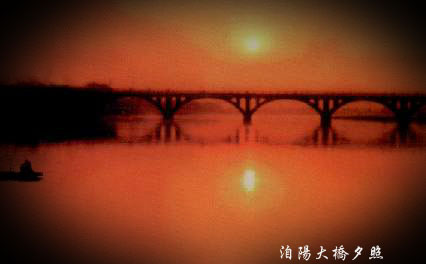 Hong Yan Fairyland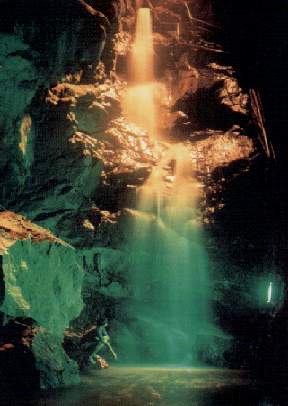 Above

is a water-eroded cave named "Hong Yan Fairyland". There are more than 120 landscapes inside the 1620 meters long cave. There is a story about it. It's said that, in the ancient times, nobody dared to enter the cave as the entrance was so small that only one person could crawl into it at one time. A young scholar decided to have a look at it. He entered in bringing three piculs of candle with him. The landscapes were so beautiful and he enjoyed it so much as if he had come into the Palace of Dragon or the Palace in Heaven. While he enjoyed with the sights, he forgot the time. The three piculs of candle were used up soon. He had no candles to guide him back. Before the last candle ran out, he wrote "Visitors stop here!" on the wall to remind the later visitors to stop here and go back before their candles run out. Just at this time, a child-looking old man with long white hair came out from the cave and asked him with a smile, "Hi, young man, which one do you want, success or peace?" "Success.", answered the young man. Then the old man presented him a candle. With this candle, he went out of the cave. Several months later, he got the Number One Scholar, title conferred on the one who came first in the highest imperial examination and became a high-leveled government official.

Chui Ping Lake is a over 20 km long reservoir with a beautiful landscape. Rowing a boat on it is a joyful thing for tourists.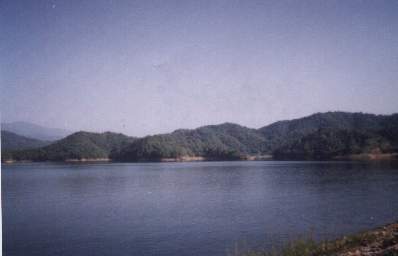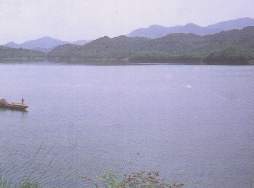 Some ancient books were found from a tomb in Le Ping.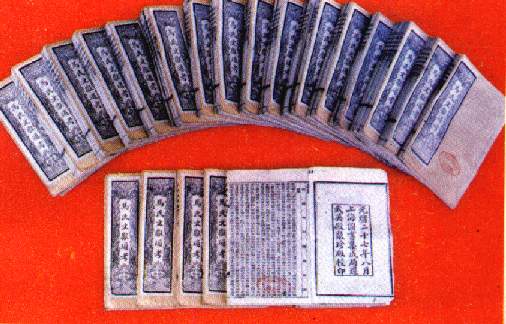 A Paleolithic cultural site was found in Le Ping.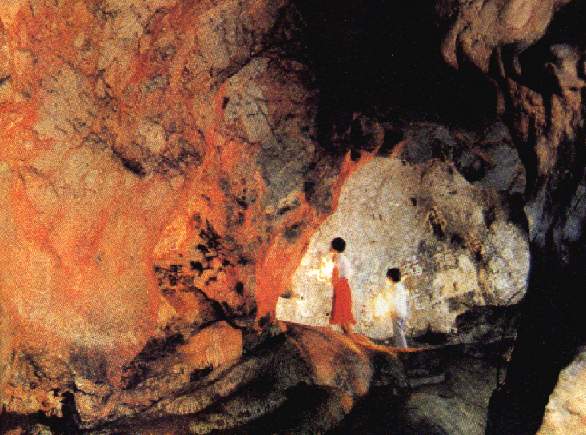 A night view of a street in Le Ping.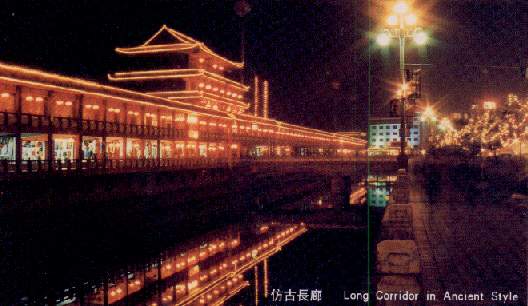 There are more than 250 ancient stages in Le Ping, where the shows were played. The arts of construction of them are unique.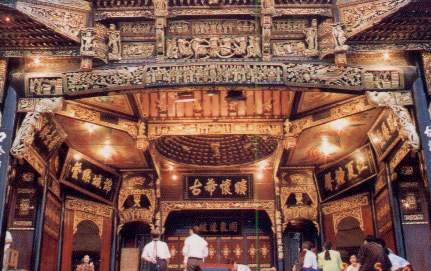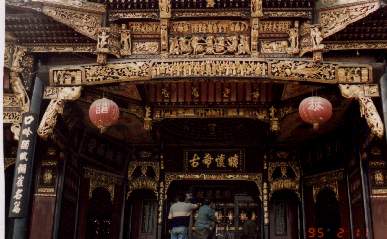 There are many forests of stalagmite in the Wen Shen Hills, Le Ping. They are especially beautiful during sunset. They look like many lotus flowers among a foggy lake.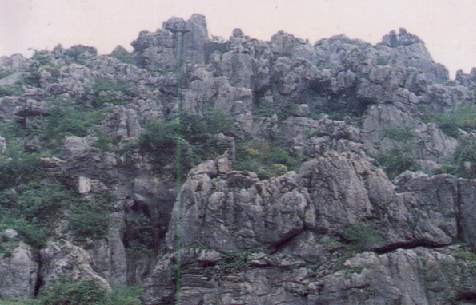 And another past Leping resident (YJ) sends these next two photos that he took while walking along the Le'an river in the Spring of 1991. He says, "Le'an River passes by the city and is about 100 meters wide. Leping is rich in coal and people use it as fuel (second photo shows coal that was manually processed with a simple tool and will be used for cooking in a coal stove).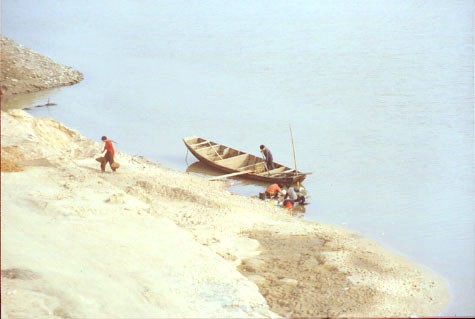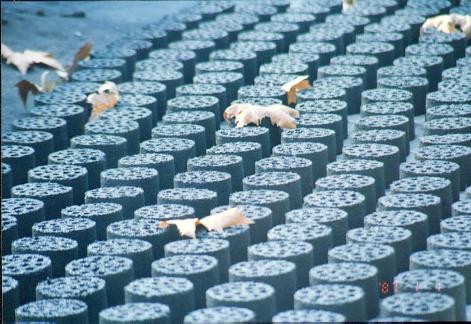 Please e-mail me at webmaster@gurrad.com if you have any additional information or if your child is from here and you would like to post a picture here or other contact information.