---
Ruijin Orphanage
---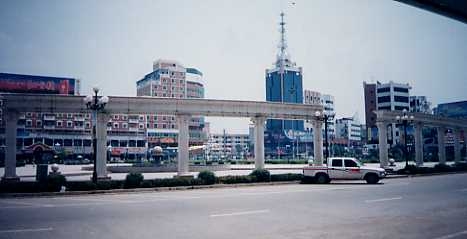 Downtown Ruijin
---

Photos of the orphanage

Amity Hugging Grannies at Ruijin
---
The orphanage in Ruijin does not appear to do as many international adoptions as several of the other Jiangxi orphanages that we know about. I've heard from one family that adopted from there in 1998, and then a few each year since. Most recently I've been informed that eight children from Ruijin were adopted by Canadian families in May, 2004.
A family that adopted in October 2000 sent a package to the orphanage prior to their travel which included a one-time use camera. They received this camera back from the director and some of the photos are shown on another page (see link above).
---
Comments from Ruijin adoptive parents:
10/16/2004 - Before our travel group, there were 3 girls from Ruijin in Sweden. We got our referral in October 2003. We were 10 families from Sweden who went together to Nanchang over Christmas to get our Ruijin girls! They were all very well taken care of and our little girl, Jin Fujuan (Linn) had been in foster care her whole life. She was 3 days old when she was found at the gate of Ruijin Electric Wires Factory. Linn was the only one who didn't even have a cold when we got them. I think it had to do with the fact that she stayed in foster care all the time. Her foster parents left her at the orphanage the same morning they were coming to Nanchang, so she wasn't so close to the other children. One of the girls had got tonsillitis and got high fever. Her parents had to go to the hospital to get penicillin shots. She got well a couple of days after they came back to Sweden. I would say all of the girls were very well taken care of! Some of them weren't as fortuned as Linn, who stayed in foster care with both mama and baba all the time. Some of the girls went back to the orphanage a month or even earlier before we came. Linn's foster parents were the same persons who found here, and that feels nice... They are the first ones who saw her after her birth parents. We did get a long letter from them, and they bought Linn a silver necklace with fortune signs and their address engraved. We also got their son's e-mail address and I have been mailing him regularly but haven't got any answers... Last Monday, I sent them a package with a one-time use camera, a letter, a photo album, some drawings Linn had made and 400 Yuan to send the camera back. (MC)
"Everything went very well and we have a very nice, relaxed and happy baby who is 15 months old. As Ruijin is about 400 km away from Nanchang and about 14 hours to drive we arranged for the orphanage people to come by plane with the children and not by car or train. I would strongly advise parents who will adopt from Ruijin to do the same because you will receive your child in a far better condition than if they are by arriving by train, car etc., and the people of the orphanage were also very happy with it. Costs are minor, around 100 US $ for three persons and the children." (HH, a. 4/99)
"We sent care package of disposable camera, clothes, Winnie Pooh keys that played song, clothes for other children, lifesaver candy for care givers and photo album with pictures and included Chinese words for "You are so beautiful", "Mama", "Papa", and "This is where we live". We got the camera back filled with wonderful pictures. We were so impressed with the look of the orphanage. Anna was born 10/1/99 and we got her 10/9/00. We could tell she had been well cared for and loved. She was clean and healthy. Besides the four layers of clothes including split pants, she had on blue bead necklace and hair was done up in ribbon which had Chinese writing on it. We were able to save the necklace but somewhere lost the ribbon which I am so sad about. Besides getting the camera back, they brought a small photo album of pictures of the orphanage and children for each family. We did not get to go to the Ruijin but four people came from orphanage and they obviously cared for the children. I had also taken the list of 19 questions that caregiver was kind enough to complete. It was so special to get this. I felt like it was a lot to ask them to take the time to complete so had guide tell them what ever was the easiest way for them to complete it. One lady sat down and answered all questions in Chinese. Our doctor is Chinese and was able to translate for us. I wish orphanages would consider doing this automatically. It covers things like how was child found, why was name chosen, likes, sleep patterns etc. They could bring it in Chinese and guides could translate for us. If anyone has any questions, please feel free to write to me (Marilyn Jacobs) at jakesjag@aol.com."
"My wife and I adopted 7 month old twin girls . The girls were extremely healthy and very beautiful. We have had then now for 3 months and they had adapted just fine and are very cheerful and alert. The director and his staff from the orphanage were very helpful and the adoption process was trouble free and was made a wonderful experience due mostly in part to our organization and their staff." (RM, a. 5/00)
---
If you would like to contribute photos or information to this website please e-mail me at webmaster@gurrad.com
---